Developing life-long writers: raising achievement in writing
As an English graduate, I have always been passionate about Literature and the power of the word as a form of communication. Since the introduction of the new curriculum and the new focus on grammar terms, I had, however, become more and more disillusioned with my English teaching. Yes, the children could identify a fronted adverbial; yes, they could meet every grammatical term on our success criteria, but could they write an engaging and cohesive piece of writing? Most definitely not. As a school, we had identified this as a cause for concern, and had begun to address this in our staff meetings. We turned to the CLPE's Raising Achievement in Writing course – one I was lucky enough to attend when I was teaching in London. I knew that the CLPE was the forward thinking information hub that would have the answers we were looking for.
From day one, I was spell bound by the course. Each time I left brimming with ideas, questions I wanted to explore and ideas I wanted to practise in my school. The first session focussed on putting us in the position of the children, forcing us to question what the process of writing entailed, and just how hard putting it all together could be. I felt liberated knowing that these professionals supported my concerns about the way we were attempting to teach English.
CLPE's Darren and Charlotte guided us through a modelled lesson that quickly gave us a bank of activities and ideas to take away and try. One concept that particularly resonated with me was the idea of personal experience. How could we expect children to write about something they hadn't yet experienced or did not understand? Repeatedly, I had experienced children beginning our 'big writes' with: 'I don't know what to write.' With this in mind, I decided to start each unit of writing with drama or an experience that would directly feed into their writing.
For example, when writing instructions on how to trap a tiger, the children arrived back after lunch to find official 'keep out' tape securing the door. The whole classroom 'had been trashed!' Tables were up turned, claw marks left on pieces of paper. The children worked in groups to be detectives and try to ascertain what had happened. Next, when we began our quest story writing, we wanted the children to understand what it felt like to problem-solve challenges and to work collaboratively to overcome difficulties. We set up a range of courses that the children had to navigate as a team. We then reflected on the emotional journey in order to create a word bank for their writing.
When we were writing our setting descriptions for The Invention of Hugo Cabret, a CLPE Corebook, we wanted the children to gain the experience of being in a busy train station. The whole of the year group (three classes), were taken to the hall. Background sound effects were used and the children acted out waiting for a train, rushing to a platform, standing eating etc. Following this we mind mapped our sensory responses, in order to use 'show not tell' in our writing, a technique highlighted on the RAW training.
All of these experiences allowed the children to start their writing with a personal understanding of what it feels like, looks and sounds like to be in the position of the key characters they were writing about. As a result, when the time came to put everything together, they were engaged and excited. Drama offers children of all abilities a way into the text, an opportunity to understand how to put themselves in 'someone else's shoes.' The emotion in Hugo Cabret, a quest story, showed clearly in the children's writing:
"He skipped and he ran. As he went past, he saw the heartbroken faces as they struggled to put on a brave face but they couldn't."
Choice was another key element that particularly struck a chord with me, and something I have endeavoured to address in our English planning. The training held a mirror up to the suffocating straitjacket we had been putting on our children when writing. Whether it is choice in their planning format; the character's point of view they want to write from, or the medium through which they can represent their understanding, our children now have choice at the heart of their writing curriculum. More importantly, the children have regular opportunities to 'free write.' This means writing what they want and it instils a celebration of writing for the 'love of it.' Many children responded to this in such a positive way, clearly feeling the release. Others however, felt fearful of this freedom and needed support in this learning journey. We have embedded choice into our planning process and thought about how to help children feel empowered by the options offered.
As a writing lead, the course has offered me a plethora of key areas to investigate and explore in our school. I have led CPD on personal experience and choices in writing. In addition to this, I have worked alongside Year Group Leaders to model how to use core texts as the vehicle for spelling investigations and grammar focus. Staff across the school come to me to ask questions and look for solutions to key issues in their classes, and I feel confident and passionate in this role.
Finally, the course has empowered me to become accredited as an SLE (Specialist Leader in Education). This has meant that I now can support schools across our local area (and the whole of the UK) in their development of English teaching and leadership. I am now currently running a course in improving writing outcomes to twelve schools across Sussex. This would not be possible without the depth and quality of the course and the passion of Darren and Charlotte's delivery. This course has been enlightening in its approach to teaching English, and has reignited my passion as both a teacher and writer myself; I could not recommend it more highly.
---------------------------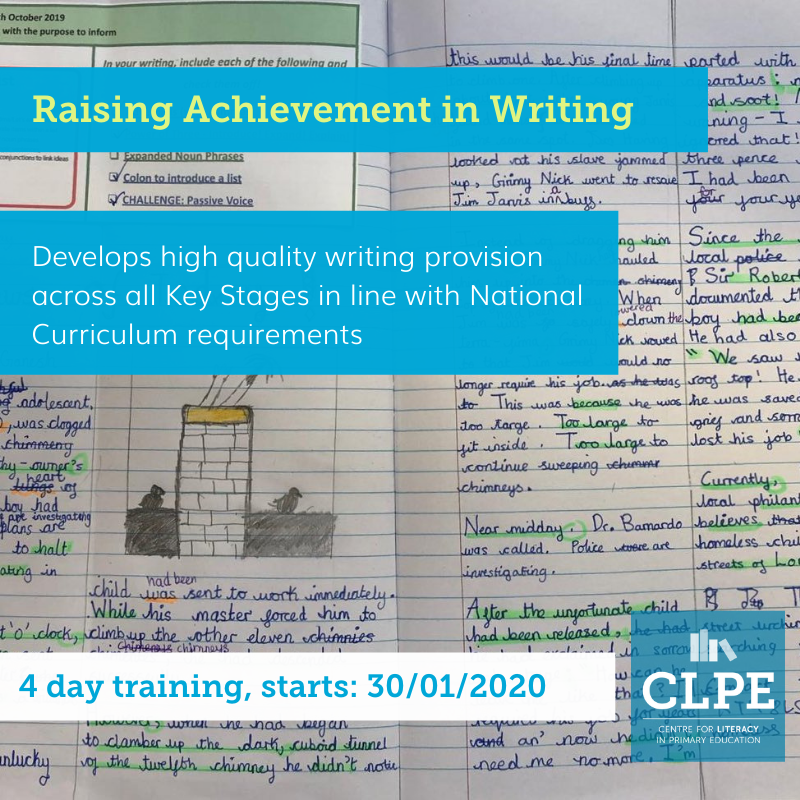 Discover the full range of our long courses, two-day training and one-day coures.